ABOUT US
We believe in the excellence of comprehensive customer service and  the quality of our production processes.
ABOUT US
OUR MISSION
Our mission is to maximize the value of the company to the community, customers, employees and shareholders.
We accomplish this through the production and delivery of differentiated and innovative products and services with highest quality standards in printing and packaging for the luxury, cosmetics, liquor, confectionery, personal care and pharmaceutical industries.
Our work is based on the development of people, the relentless pursuit of continuous improvement, the establishment of strategic alliances with suppliers, the rational use of resources, and the mitigation of the impact on the environment.
Full responsibility, trust, respect, teamwork and fairness govern the conduct of those who depend directly or indirectly on the company.
VISION
By 2016, Indugráficas will be recognized as the leader in Colombia in developing innovative packaging with value-added differentiators in product, service and manufacturing processes at a competitive price and quality, with a regional presence in countries in Central and South America.
We will have a highly qualified, energetic, transparent, values-based and accountable organization.
The permanent concern for persons and their welfare will be the engine that will foster the creativity and innovative thinking, efficiency, adaptability, and assurance processes, which become the basis for competitiveness, enabling the organization to successfully penetrate different markets in which it has decided to compete.
Our people work each day bearing in mind our values of quality and commitment to our customers and partners.
We believe in excellent customer service and quality of our production processes.
Indugráficas differentiates itself by a HIGH QUALITY CUSTOMER SUPPORT AND SERVICE ORIENTATION.
The quality of our people allows us to respond appropriately to each level of demand. We do it because it is our corporate and personal philosophy. Providing excellent customer care and service is not an option, but a commitment that makes us Indugráficas.
We believe in the EXCELLENCE IN QUALITY OF OUR PRODUCTION PROCESSES, monitoring compliance with them, and thus ensuring the satisfaction of customer requirements and standards of Quality Management Systems.
Since 1968, we have been a company that has made progress, recognized in the marketplace as a highly competitive multinational provider in graphic arts, setting trends in our country, benefiting over 300 families through work with our partners directly and indirectly, and the communities we impact.
Today our company has over 200 direct and indirect staff, working in 4,255 square meters located in the city of Cali, Colombia, featuring the latest technology, equipment and processes for quality packaging and printing.
Its extensive portfolio of clients in Colombia includes Tecnoquímicas SA Belcorp (Colombia, Peru), Prevel, Avon Colombia, Yanbal Colombia Laboratorios Recamier, Laboratorios Avantis, Nutresa Group, Colombina and Aldor, among others.
---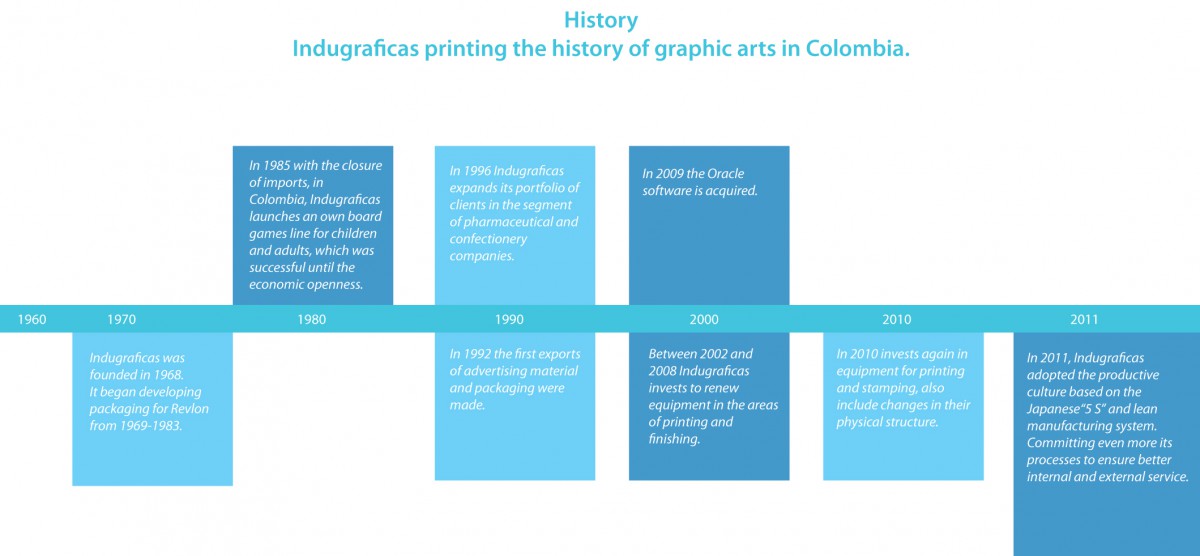 ---
We have worked closely with the Colombian government to transform into a world-class company by improving our standards on human development, processes and productivity.
For this we implement and maintain philosophies recognized as Lean Manufacturing processes that allow the standardized provision of services to our clients.
The Japanese philosophy 5 "S," based on a culture of cleanliness and order, allows us at Indugráficas to maintain an open mind to change — and to understand that the delivered product, processes and tasks should be done with excellence, exceeding anticipated outcomes.
We are well aware that continuous improvement is key to sustained competitiveness in international markets.
In summary, we are committed to a culture that qualifies us to the highest standards in the graphic arts market, in order that we compete with the best and be the best.
---
COMPREHENSIVE CORPORATE RESPONSIBILITY
At Indugráficas we have made a commitment to corporate responsibility in the social, environmental and economic areas.
Our responsibility includes programs benefiting our employees, mitigating environmental impacts, and searching for improved plant production processes in attaining sustainability and quality.
We present some of our major achievements:
Certified suppliers of quality management systems and ISO: 9001e environment, such as ISO 14001, and in the Sustainable Forestry Initiative (FSC), an international body that promotes socially beneficial, economically viable, and environmentally responsible forest management
Sustained recycling that processes more than 94% of waste
Implementation of preventive medicine programs for our staff
Epidemiological surveillance programs
Risk management
Waste management
Implementation of technologies and best practices in processes
Water conservation through advanced technologies
Awareness programs in the use of natural resources
Replacement of solvent-based to water-based adhesives in the lamination process, eliminating the generation of volatile organic compounds (VOCs) in processing and allowing the comprehensive repurposing of waste for additional use in the industry.